The vast majority of the world's approximately 15 million Jews now refrain from Torah study all year long.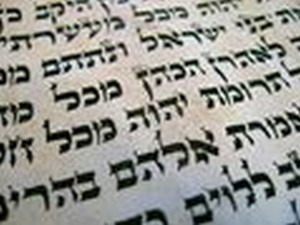 Jerusalem, August 1 – The mourning practices associated with the saddest day on the Jewish calendar include a prohibition against studying all but a select group of somber texts, lest one get distracted and joyful through engaging in the intellectual pyrotechnics typical of the field, and thus lose sight of the purpose of the day. But some Jews, wary of running afoul of this venerable safeguard, have taken to extending that prohibition to the other days of the year.
What began as a fringe phenomenon in the Jewish world has, through the generations, taken on a mainstream flavor, as the vast majority of the world's approximately 15 million Jews now refrain from Torah study all year long, not merely on the Ninth of Av. The date marks the anniversary of the destruction of both Temples in Jerusalem: first in 586 BCE and again in 70 CE, along with a string of other calamities, from the slander of the spies in the wilderness to the outbreak of the First World War. Traditions associated with the day include fasting, abstaining from bathing, sexual relations, and leather-soled shoes, in addition to some hallmarks of mourning: sitting on the floor, not greeting one another, not cutting one's hair or shaving one's face, and not studying Torah.
Observers of Jewish trends have noticed a tendency toward stringency among the Orthodox in recent decades, and the extension of no Torah study from Tisha B'Av to other days should come as no surprise, argues Rabbi Humra Yetera of Congregation Minhag Shtus. "The economic prosperity and unprecedented religious liberty has allowed observant Jews the luxury of adopting stringencies their ancestors were never privileged to uphold," he noted.
Torah study is not the only practice from which many Jews now refrain beyond Tisha B'Av. "I long ago stopped saying hello to people or inquiring after their welfare," disclosed Rabbi New Yawka. "In keeping with the seriousness and brokenness of the post-Temple-destruction reality, I maintain a continual practice of avoiding eye contact entirely. If it becomes necessary, I offer a curt nod, but nothing more."
Others use only standing desks all year round, in keeping with the Tisha B'Av practice of sitting only on the floor or on a low stool, in the manner of a mourner during the Shiva period. Rather than sit in a regular chair, these adherents have extended the Tisha B'Av practice to avoid regular chairs to the rest of the year. Still others refrain from sexual intercourse all the time, and the existence of such a stringency beyond the Ninth of Av has allowed them to call it a voluntary practice and not a direct outcome of also refraining from bathing.
Please support our work through Patreon.