All these perfectly good fat jokes are going to go to waist.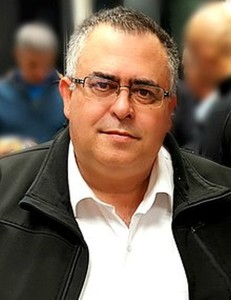 Tel Aviv, December 5 – Following reports that Coalition Whip David Bitan will step down after being implicated in a corruption investigation, hack writers and pundits across Israel's media scene sighed, shook their heads in resignation, and consigned to oblivion their untapped reserve of jokes about the legislator and his weight.
The majority of Haaretz, Channel 10, Channel 2, and Yediot Aharonot political analysts were observed taking a last, lingering look at their drafts of vicious or lighthearted references to David Bitan's obesity this evening once reports emerged that a police investigation had found irregularities of a criminal nature involving bank accounts in the lawmaker's name. Initial information pointed to Bitan resigning, a prospect that caused the less creative journalists in Israel to pause, spend a wistful several moments with the unused jokes, sight gags, or offensive analogies involving his rotund figure that they will never have the opportunity to use.
"It's a goddamn shame," lamented Rogel Alpher, ostensibly a film critic for Haaretz but in fact one of the paper's primary sources of anti-Likud vitriol. "I had 'Adipose Rex' jokes and 'Let them eat cake and cookies and ice cream and cheese fries and deep-fried Twinkies' references up the wazoo, but now I'll never get to employ them in my writing." A tear formed in Alpher's eye as he described contemplating the prospect of not having an opportunity to write that he wished Bitan would join the Yesh Atid Party just to make possible Lapid/lipid puns.
"We've survived worse," stated veteran journalist Dan Margalit. "But that doesn't make it any easier to stomach, so to speak. I'm still trying to digest the news, and the realization that all these perfectly good fat jokes are going to go to waist."
Some made a desperate attempt to squeeze the fat jokes in while Bitan remains a relevant news subject, with mixed success. "Should I have done this sooner?" wondered Jerusalem Post correspondent Lahav Harkov. "Did I not appreciate the gravity of the situation? Perhaps it was a mistake to weight."
"This will certainly give this so-called most-right-wing-government-in-Israel's-history an opportunity to dump Bitan – trim the fat and demonstrate adherence to right-wing economic principles," declared Roi Iddan. "I'd eat that up if it were truly the case. But what's going to happen now, given the basics of supply and demand, is that the glut of unused fat jokes will drive down prices. But you can bet the trade unions and other mafia-like groups will blackmail the government into imposing price controls so these fat cats can continue to line their pockets with your and my money."
"The consumer and taxpayer pay a heavy price for this incompetence," he added.
Please support our work through Patreon.