"We're seeing a media master at work," remarked analyst Kevin Spacey.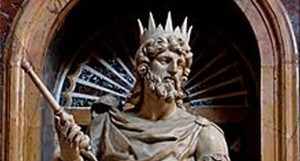 Jerusalem, October 30 – The David administration made a successful attempt to redirect recent talk of an emerging scandal regarding the king's alleged affair with a married woman this week by coming out of the closet, media observers have noted.
When threatened with opprobrium across the political spectrum for seducing the wife of one of his military captains and then ordering that the soldier be stationed in battle where he would not survive, King David staged a preemptive media coup by declaring himself homosexual, thus guaranteeing sympathetic treatment from journalists, commentators, and political rivals.
"We're seeing a media master at work," remarked analyst Kevin Spacey. "At the very moment His Majesty could have been facing public humiliation for abusing his power and exploiting others, he played his cards in such a way that the prevailing narrative and assumptions of the media class would depict him as at worst a victim and at best a hero for stepping into the role of public homosexual."
Spacey noted that in David's case, existing rumors of a relationship with the late prince Jonathan, son of Saul, the previous king, have contributed to the credibility of the current king's revelation. "We have testimony calling the love between the two 'beyond that of a man for a woman,' so it's not such a stretch," remarked Spacey.
The move surprised some observers for its boldness. "I would have expected the king to follow the time-honored path of relying on his reputation for supporting worthy progressive causes," commented Harvey Weinstein. "That has usually been enough to mitigate sexual misconduct accusations, in my experience."
Activist Ezra Nawi agreed. "He could have played up his defense of the weak when he defeated Goliath," he suggested. "We all know how being involved in the right progressive causes provides immunity against some of the most hideous personal failings, including child rape. He could have emphasized his ancestry as emerging from Moabite immigrants; he could have displayed his many psalms and portrayed them as support for poetry and music, which many consider 'gay' pursuits. But he went much farther than I expected. Kudos to King David for really stepping into this, then."
Some commentators voiced concern that the announcement could backfire against gays. "If he doesn't handle this with care, we could all be in trouble," worried Bradley Manning. "The last thing we want is for the whole Batsheva-Uriah affair to be invoked as 'proof' that LGBTQ people are dangerous deviants of some sort who might commit treason."
Please support our work through Patreon.