The victims have yet to be identified, given the paucity of physical markers remaining from the incident.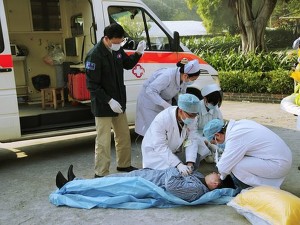 Denver, January 4 – Five social justice campaigners met grisly deaths today and fourteen others suffered injuries today when they got caught between powerful opposing political and virtue-signaling pressures as they encountered a bakery proprietor of Palestinian Muslim extraction who rejected a homosexual couple's request to decorate a wedding cake for them.
Emergency Services, hospital officials, and a police spokeswoman told reporters that the gory incident took place just outside Raheem Masri's confectionery. Through fragmentary witness reports, police were able to reconstruct the timeline of this morning's tragedy, which began when local lesbian couple Sarah MacArthur and Alisha Washington entered Masri's establishment and ordered a wedding cake.
"Both Ms. MacArthur and Ms. Washington remain hospitalized and under sedation," stated a grim Denver Police Lieutenant Dan Pagliarulo. "We have yet to collect a statement from either of them. However, several other witnesses have helped us piece together this morning's development. It appears that when the couple was denied the order they wished, they alerted several friends in the area who are active in progressive causes, and within fifteen minutes group of approximately twenty activists had assembled in front of the bakery, the majority of them college students."
"It appears that when the crowd formed and began chanting outside his business, the baker went out to speak to them," continued the lieutenant. "In the course of a verbal exchange between him and the activists that reportedly involved heated rhetoric, a number of slurs, and unconfirmed threats of violence, the proprietor revealed his Palestinian heritage and accused those assembled of racism and Islamophobia. Five of the protesters imploded on the spot, two others suffered aneurysms, and numerous others people, including passers by, were injured by flying glass that broke from the force of the nearby implosions, while others are being treated for shock."
Mr. Masri was treated at the scene for lacerations, as were two employees.
"We believe the force of the implosion was magnified by several factors," remarked Rose Medical Center Director Dr. Eva Ciardi. "Had the couple involved not been female, the countervailing pressure of the proprietor's ethnicity might not have met so much resistance. And had one of the women not been a person of color, we might have expected less damage."
"Similarly," she added, "had the baker been a Muslim of some other extraction such as Pakistani, Indonesian, or Iraqi, there would not have been sufficient force to cause real implosion. Unfortunately, the perfect storm of factors came together this morning, and tragedy resulted."
Please support our work through Patreon.