"This land is Palestinian. They cannot stay. Did I mention that Israel is conducting ethnic cleansing?"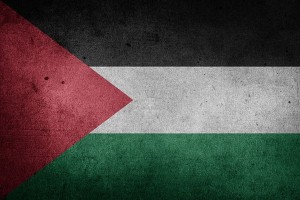 Ramallah, February 16 – A spokesman for the Palestinian Authority government that imposes the death penalty or life imprisonment for selling land to Jews, and has made the dismantling of Jewish communities in the territory it claims a prerequisite for ending the conflict, charged today that Israel is displacing and killing Palestinians.
Saeb Erekat, the chief Palestinian negotiator in talks with Israel the Palestinians have refused to attend in three years, leveled the accusation at a meeting with journalists at the Muqat'a, the presidential compound. He insisted that no Israeli Jews could remain in the State of Palestine, in fulfillment of the exhortation invoked among Palestinians since the 1940's that the Jews must be pushed into the sea, then accused Israel of forcing Palestinians off their land to make room for Jews.
"The blatant discrimination – the ethnic cleansing – that Israel perpetrates against the Palestinian people must be stopped," insisted Erekat. "And when the Palestinian State is established, we will be sure to prevent Jews from living where they live now. They will have to move. This land is Palestinian. They cannot stay. Did I mention that Israel is conducting ethnic cleansing?"
Erekat's voicing of Palestinian demands represents a moderate version of his people's long-held vision of a Jew-free Arab state where all of Israel now exists, and not merely a Palestinian State in areas Israel took from Jordanian occupation in 1967. Whereas the Mufti of Jerusalem during the Second World War, Amin al-Husseini, already had plans to implement Hitler's Final Solution if the Wehrmacht managed to take the Holy Land from the British, Erekat and the moderate Palestinian leadership of today have no qualms about the Jews continuing to exist as long as they exist not on Palestinian soil. Such a policy would be fair, he explained, unlike the Israeli policy of dispossessing Palestinians en masse.
"They can go back to Europe," he observed. "They can go back to the Arab and Muslim countries that treated them so well until the Zionists came along and left the rulers no choice but to increase oppression and eventually force the Jews to forfeit their property, then expel them. I am certain they would be welcomed back with open arms to all those places."
In response to a reporter's inquiry, Erekat raised his voice. "How dare you suggest a resolution that involves that third- and fourth-generation Palestinian refugees going somewhere they've never lived? What are they, Jews?"
Please support our work through Patreon.