Axl Rose has already taken to referring to himself as Al-Axl Rose for the occasion.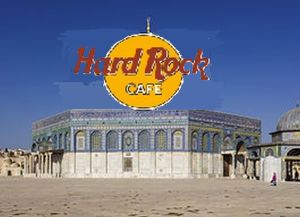 Jerusalem, November 8 – Sources in Israel's Ministry of Religious Services revealed exclusively to PreOccupied Territory that the government plans to transform the iconic Dome of the Rock into a theme restaurant that fuses archaeology, spirituality, and famous pop artists. The new establishment will be dubbed the Dome of the Hard Rock Cafe, and will become the flagship location of the Hard Rock Cafe chain.
The Seminole Tribe of Orlando, Florida, which owns Hard Rock Cafe International, Inc., has been granted a license to develop the historic site and turn it into an enterprise that pays tribute to the popular music of the twentieth and twenty-first centuries while preserving the historical and religious heritage of the location, which is revered by three major faiths. Dome of the Hard Rock Cafe is scheduled to open to the public in June 2018.
Seminole leader Elvis Costello said they are close to signing with an Israeli firm to handle the design, construction, and preservation elements of the project. "In a country such as Israel, there is fortunately no shortage of experts who blend all three fields, given the extent to which that land is suffused with artifacts and charged with history," he said. "As an indigenous population we find such a phenomenon particularly resonant, and are looking forward to seeing this through." Costello added that several giants of rock 'n' roll and pop culture have already agreed to headline the Dome of the Hard Rock Cafe grand opening, including Axl Rose, who has already taken to referring to himself as Al-Axl Rose for the occasion.
A Ministry of Religious Services spokesman said the arrangement was green-lighted after Jordan agreed to relinquish its role in administration of the compound atop the Temple Mount. "The recent troubles drove home to Amman the difficulties inherent in managing the space and the tensions," said Yinon Molotov. "King Abdullah was apparently quite upset that the Palestinians were opposed to the installation of security cameras, so he went and handed control to Israel just to spite them," Molotov said his office was now exploring ways to bring other prominent businesses to holy sites in an effort to leverage their popularity.
Tourism industry experts hailed the decision. "This is about the smartest thing that's been done with the Temple Mount since 1967," said commentator Sak Rilledge. "The area is crying out for a Hard Rock Cafe since the Tel Aviv branch closed in 1997. There's one in Dubai, and one planned for Qatar, but neither of those have the universal appeal and charge of a Dome of the Hard Rock Cafe." Rilledge noted that the planned Temple Mount branch has even more of an opportunity given the terrorism expected to keep tourists away from the Hard Rock Cafe in in Sharm el-Sheikh, Egypt, and the closings of the branches in Beirut and Cairo over the last five years.
"Personally, I'm wondering what kind of memorabilia will grace the walls of the Dome of the Hard Rock," he mused. "It might be appropriate to have Roger Waters donate something."