"A sophisticated propaganda campaign, perhaps, might account for the people streaming out of our Islamic paradise."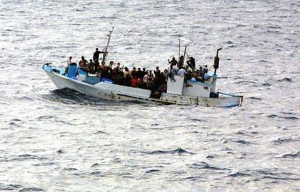 Riyadh, December 21 – Leaders of several Mideast states governed by Islamic Law voiced confusion regarding the phenomenon in which hundreds of thousands of Muslims attempt to escape the Heaven-on-Earth that Sharia law creates, headed for the degenerate infidel lands of Europe, the United States, and Canada, among others.
Millions of Muslims from African and Levantine countries, plus other states further east, have flooded Europe in the last seven years, a hefty portion of them from places governed by one form of Sharia or another. Political and cultural officials admit they remain at a loss to explain why anyone would want to make such a move, which involves abandoning the veritable Jannah – an Edenic existence – of Islamic society, subjecting oneself to an arduous, dangerous, and expensive journey only to reach shores that offer nothing of the purity, virtue, and bliss that Islamic law guarantees.
"All I can say is it must be a plot, a conspiracy," offered Dumm Azzapost, an Iraqi analyst. "A sophisticated propaganda campaign, perhaps, might account for the people streaming out of our Islamic paradise. I can think of no other plausible causes."
"What flummoxes me is how they never try to return once they discover the horrific truth of Western society," exclaimed Yemeni religious official Aima Ful. "The brainwashing or mind control of the plot against them, and us, must be pretty powerful it it can maintain sway over them even in the face of such a manifest hellscape devoid of Islamic law. I shudder at the thought of such a terrible situation."
Individuals who left the countries in question appeared unable to explain their decision to go from the ideal world of Sharia-governed domains to the cesspit of non-Islamic values. "Please, do you have medicine?" answered one Syrian. "My daughter is dying." Similar non sequiturs characterized others' responses as well.
"Excuse me, I need to get to Western Union, please move," explained another. "Excuse me sir! I need to wire money to my family in Somalia to pay my mothers' kidnappers the ransom, and maybe they will have enough left over to hire smugglers to get them to a rickety boat for a hazardous trip across the Mediterranean. Please move."
Some experts noted they had not ruled out the possibility that the phenomenon represents a virtuous trend through which millions of righteous Muslims intend to bring Islam to the infidel West and thereby subjugate the enemy. "We can only hope that is what they are thinking," warned Iraqi analyst Noselfa Werniss. "Otherwise, it means our Islamic education systems have failed to properly convey how fortunate we are to live where we do."
Please support our work through Patreon.