"If you ask me, there's something fishy going on there."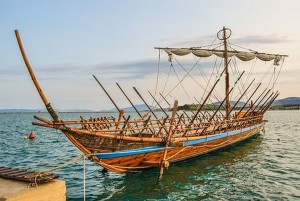 Jaffa, January 31 – A prophet trying to escape his mission had no choice but to purchase an entire vessel when a labor stoppage by union workers delayed the departure of a boat on which he had secured passage.
Jonah ben Amittai, a seer of God, arrived in Jaffa this morning intent on paying for a voyage to faraway Tarsus, but soon discovered that stevedores, longshoremen, and other unionized personnel at the port had begun to strike, and refused to load or unload cargo from vessels. Despite negotiating for passage and paying, the prophet was informed that departure would not take place this morning as planned, as the strike had prevented timely lading and removal of merchandise. Instead, Mr. ben Amittai recalled, he found a vessel owner willing to part with his boat and crew, and shelled out a handsome sum for the ability to leave at will.
"I need to get as far away from Nineveh as possible," explained the Hebrew prophet as his crew cast off. "Ideally, that would have been to the southeast, which is directly opposite the direction of the Assyrian capital, but for logistical as well as symbolic, poetic, shall we say, literary reasons, to the northwest and Tarsus it is. I just need to put some distance between me and Nineveh, because there is no way I'm going to deliver a prophecy to help those bastards repent in time to exile the Ten Tribes and besiege Jerusalem in a few generations' time. Certainly not when my own people aren't heeding the rebuke of the prophets – it would be so embarrassing."
"So, yeah, this was not a pleasant hiccup in the journey," continued Jonah, with a sour expression. "Lousy timing, and, let me tell you, not a way to get public opinion on the side of the workers. Whom do they think they're hurting, anyway? Those who suffer most acutely from a strike are the ones with the least ability to do anything to address the strikers' demands. If you ask me, there's something fishy about the reasoning going on there."
"It's not something I would ever feel capable of forgiving, either," he added. "The whole notion that you can do damage to people, to the world, to human relations, and then undergo personal change internally to atone for it? That doesn't undo the harm. I'm not really into the whole compassionate forgiveness or patience thing, that I can tell you."
Please support our work through Patreon.