"The sophisticated BBC reader or viewer cannot be trusted to come to the correct conclusion without that context."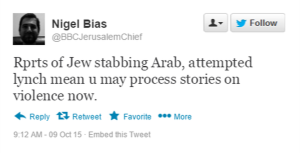 Jerusalem, October 9 – Editors at the British Broadcasting Corporation's Jerusalem Bureau have given correspondents the green light to report on the spasms of deadly Arab violence hitting Israel over the last two weeks, now that there is also at least one incident of a Jew attacking Arabs.
Nigel Bias, BBC Jerusalem Bureau Chief, sent a Twitter message to the reporters under his aegis today, informing them they were free to begin filing articles and tweeting about the violence. "Rprts of Jew stabbing Arab, attempted lynch mean u may process stories on violence now," he wrote.
A Jewish teen stabbed four Arabs in the southern town of Dimona this morning and police rescued several Arabs from a potential lynch mob in coastal Natanya last night, after more than a week-and-a-half of intense stoning, stabbing, shooting, and other deadly actions by Palestinians against Israelis. The many Arab-on-Jew incidents garnered no mention in BBC materials during that time, despite numbering more than two hundred, but now that the British journalists have a story involving violence perpetrated by Jews, they are clear to report on the situation.
The correspondents will continue to adhere to other editorial guidelines regarding Israel common in British, European, and most American media, such as omission of the Palestinian leadership's corruption and central role in their people's misery, and the constant incitement in official Palestinian media to attack Jews. In several cases a BBC correspondent has been disciplined for neglecting to cast doubt on Israeli humanity and adherence to norms of behavior, but Bias said he believes the staff have been properly trained and vetted following embarrassing missteps that forced the organization to apologize.
Several reporters did submit earlier news items regarding casualties among Palestinian rioters, but those articles and video clips were not published, explained Bias, because they might confuse the audience with stories of Palestinians engaging in violence apparently not immediately resulting from Israeli aggression. "We have made it clear to our correspondents that to maintain the highest ethical standards of journalism, they are not to adulterate reports of Israeli violence with any notions of Palestinian volition, let alone culpability. The sophisticated BBC reader or viewer cannot be trusted to come to the correct conclusion on his own – namely, that Israel behaves brutally while the noble Palestinians have no choice but to react violently – unless we contextualize every report of Palestinian violence with violence by Jews or Israeli forces, while seizing on any seemingly unprovoked Israeli action as a stand-alone event that captures the overall situation in microcosm."
During the phone interview with Bias, reports came of a sixteen-year-old Israeli stabbed in Jerusalem and an Israeli policeman attacked near Hebron. Bias surmised that those incidents would be given a cursory reference in paragraph 13 of one of the day's stories.