"There's a quota," noted Nabil Shaath. "We're supposed to have a certain minimum number of Days of Rage in every reporting period."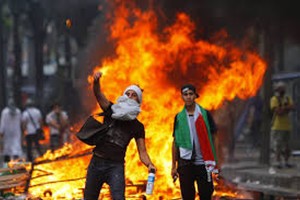 Ramallah, February 1 – Officials in the Palestinian Authority confessed embarrassment today upon realizing that after they had declared tomorrow a Day of Rage, they discovered the date had already been declared several weeks ago as a different Day of Rage.
Nabil Aburdeineh, and adviser to Palestinian President Mahmoud Abbas, admitted to reporters the staff at the Muqat'a, the presidential compound, has been working overtime on damage-control since uncovering the foul-up early this morning.
"We had a Day of Rage set on the calendar over some perceived slight, I think by an American official, a couple of weeks ago already," explained Aburdeineh. "For technical reasons, at the time we couldn't hold the Day of Rage that week, if I recall correctly because it was on such short notice. Since Fridays are the ideal day for a Day of Rage, we of course skipped all of last week and looked only at last Friday, but then I think that turned out to be the day some important Fatah official was marrying off a son and everyone was supposed to be in attendance, so it was pushed back another week. But then we forgot about it."
"So then after [US Vice President Michael] Pence came out here and waved the Trump administration's new hard line against us in our faces, we had no choice," he continued. "I mean, what other possible course of action did we have? We certainly haven't conditioned our people to do something other than have violent outbursts. There really was no other option here. But we forgot to check the calendar properly, and everyone up and forgot we'd already scheduled a Day of Rage for this Friday, and, well, here we are."
Other Palestinian officials lamented the problematic implications. "There's a quota," noted Nabil Shaath. "We're supposed to have a certain minimum number of Days of Rage in every reporting period, or we don't get our bonuses. Everything has to be coordinated, but that can't happen when we're not all on the same page as to when a Day of Rage is supposed to happen. I predict heads will roll as a result of this fiasco." Shaath declined to specify the number of Days of Rage mandated to take place, but did reveal that the deadline for the quota to be met stands at the end of March.
"We might need to reconsider how we go about this," he allowed. "Perhaps a rebranding is in order. What do you think of 'Day of Anger' instead? 'Day of Wrath'?"
Please support our work through Patreon.