As the import of the announcement sank in, the assembly of journalists transformed into profanity-laced pandemonium.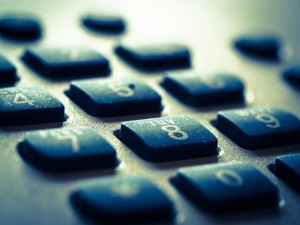 Givatayim, August 28 – An investigation into the automated system that channels incoming calls to various organization departments has found that despite a greeting that admonishes callers to listen carefully before selecting an extension because menu options have changed, no such change has been recorded in the entire existence of the system.
The shocking revelation took place this morning as investigators compared the menu options of today to those of three years ago, when the automated answering system was first installed. Chief investigator Hugh Gottabee-Kiddüng announced the startling discovery today at an emergency press conference, sending viewers and some journalists into a seething rage.
"This news may disturb some," warned Gottabee-Kiddüng before sharing the news. "Many of us have long assumed that the term 'customer service' implies actual concern and respect for the caller on the part of the organization, but that assumption may be misplaced."
"It turns out this company, and possibly many others, have…" he paused to draw a deep breath before continuing, "have not in fact altered their menu options at all." As the import of Gottabee-Kiddüng's words sank in, the assembly of journalists transformed into profanity-laced pandemonium.
The speaker lost control of the crowd, and furniture began flying. Emergency Medical Services treated seventeen people for injuries, eight of them serious, and police arrested six for vandalism and disturbing the peace. Once the situation returned to its normal calm, Gottabee-Kiddüng resumed his address, and provided more details of the harrowing discovery. The room remained on edge as each element of the ongoing betrayal emerged.
"We compared the options from thirty-six, twenty-four, and twelve months ago with those of today, and with one another, and found no difference," he stated, his voice shaking. A fresh bandage adorned his forehead where the corner of a lectern had struck a glancing blow. "It would appear that the admonition to 'please listen carefully, as our menu options have changed' is little more than a cynical attempt to delay the caller as staff tries to handle other calls." His voice grew stronger with each enraging fact.
"It would further appear that the company views 'customer service' not as a way to reinforce its relationship with existing clients, but to keep them at bay while offering as little as possible," he added, now almost shouting. "It seems, moreover, that other elements of this lovely 'interface' contribute nothing but time-wasting to the dynamic, such as having the caller input identifying information via the keypad, information that does not get passed on to the human who eventually handles the call."
He was yelling now, and on the verge of hyperventilation; a fellow researcher ushered him away from the microphone, and Gottabee-Kiddüng entered a waiting ambulance. Inquiries after his welfare were met with a hospital answering system that cautioned callers to listen carefully before choosing an extension, as menu options have changed.
Please support our work through Patreon.