Within minutes, a dozen responses to the original post had come in.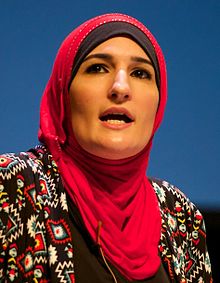 New York, November 8 – Brooklyn-based women's and Muslims' rights advocate Linda Sarsour accused Israel of racism today after an Israeli on the subway had the opportunity to feel her up but declined to do so, prompting the Palestinian-American activist to start a social media effort called #MeNeither to call attention to such racism.
The prominent feminist and Women's March leader told her followers on Twitter this morning that during a subway trip into Manhattan, the man behind her, speaking Israeli–accented Hebrew, kept his hands to himself despite ample opportunity during that 20-minute portion of the ride as she stood in front of him. Since, as Ms. Sarsour has asserted, Zionism and feminism are incompatible, the man behind her could not perforce be a feminist, which meant only one possible explanation for not acting on his non-feminist, pro-groping sensibilities: he saw an Arab Muslim woman as so beneath sexuality as to remain unworthy of molestation.
"I hereby launch the #MeNeither hashtag so all women can share their dark experience as I have," she wrote. "Add your story of not being groped, harassed, or assaulted because Israelis are too racist to consider you for such treatment."
Within minutes, a dozen responses to the original post had come in, some citing a familiar case several years ago when an IDF reservist was called racist because of a lack of rapes of Palestinian women by Israeli soldiers.
Ms. Sarsour later elaborated on her earlier call, and by gave an indirect answer to earlier accusations that she had remained silent on Muslim Oxford Professor Tariq Ramandan's alleged sexual assaults on Muslim women. "Women must stand together," she declared. "Even Professor Ramadan, whose so-called-scandal might well be the work of Zionist saboteurs, at least had the decency to target Muslims for rape. I have stated before that Zionism and feminism are not compatible, and I stand by that assertion. Unless Israeli men are groping, catcalling, harassing, or otherwise making unwelcome sexual advances toward Muslim women, they demonstrate the truth of my position."
The campaign has resonated in academic circles, where accusations of a parallel nature have gained currency. "This is exactly what I'm talking about," responded Rutgers Professor of Gender Studies Jasbir Puar. "When Israeli soldiers wound, rather than kill, alleged Palestinian attackers, they do so out of malice. The same thing is happening here. What kind of monster would not kill, rape, or grope a Palestinian? Only a racist one."
Please support our work through Patreon.