"Once we didn't get an answer from Hitler or Pol Pot, we were forced to skip down to second-rate mass-murderers."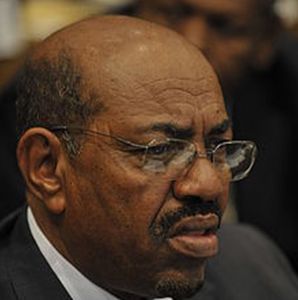 Riyadh, May 18 – Royal authorities in the Kingdom of Saudi Arabia have extended an invitation to genocidal dictator of Sudan Omar Bashir to attend an event hosting American President Donald Trump next week, after earlier overtures to former German Führer Adolph Hitler and Cambodian leader Pol Pot went unanswered.
A spokesman for the Ibn Saud government told reporters that King Suleiman had intended to bring the most genocidal autocrat in the world to mark the occasion, and put out diplomatic feelers regarding the availability of several noted perpetrators of mass murder and ethnic cleansing policies. However, despite the list of potential invitees, in the end the country had to settle for a brute who had overseen merely tens of thousands of murders, instead of the millions they had hoped.
"Of course the roster of mass-murdering dictators we can invite is extensive," explained Prince Essess. "But not every genocidal potentate is fit to be invited to the presence of His Highness. [Syrian President Basher] Assad might be presiding over the starvation and murder of half a million Syrians, but he is allied with our enemies in Iran. Iran, which facilitates Assad's bloodshed and oppression, and sponsors terrorism, not to mention calls for the destruction of an entire ethnic state – who are, after all, filthy Zionists – isn't exactly on our list of friends. We already knew Théoneste Bagosora, the main architect of the Rwandan Genocide, is still in prison. Once we didn't get an answer from Hitler or Pol Pot, we were forced to skip down to second-rate mass-murderers, and that's how we wound up inviting Mr. Bashir."
Prince Essess added that the eligibility of certain personalities more monstrous than Bashir remained in doubt, and that extending them an invitation was therefore not considered. "Depending on which historical narrative you believe, Stalin may or may not have ordered the mass starvation of Ukrainians in 1932 and 1933," he noted. "We were looking for someone with impeccable genocidal credentials. Hitler would have been perfect, because in his case, the forced starvation of Slavic areas under Nazi occupation was very much planned and implemented. Alas, he doesn't appear interested."
"It's strange that he wouldn't jump at this opportunity, though," wondered the prince. "We Arabs were always natural allies of the Nazis, even as we paid lip service to our British patrons. We really could have used some German military support trying to drive those Jews into the sea in 1948. I do wonder why we don't hear about what the Wehrmacht and SS are up to nowadays."
Please support our work through Patreon.