The experiment outcome closely matches that posited by researchers Laura Joffe Numeroff and Felicia Bond in a 1985 paper.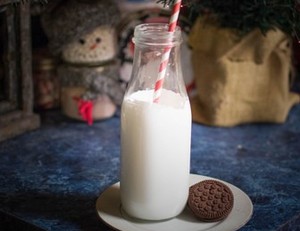 Rehovot, June 8 – Researchers at the Weizmann Institute of Science have managed to confirm a longstanding hypothesis regarding murine behavior, first posited in 1985, to the effect that if one offers a baked treat to a member of the genus mus, the subject animal will request that the comestible be accompanied by the output of a cow's udder.
Scientists at the Institutes' Biological Sciences division announced today they succeeded in creating and implementing an experiment protocol to test the Numeroff-Bond Mouse-Cookie-Milk Hypothesis, as the notion has come to be known since its introduction more than three decades ago. The researchers told reporters that most of the hypothesis has been proved, but that several corollaries proposed by the original researchers have yet to find formal confirmation.
"We are pleased to announce we have developed a protocol that appears to prove that when you give a mouse a cookie, it will indeed ask for some milk to go with it," declared Team Leader Dr. Akbar Halabi, a postdoctoral research fellow. "We further confirmed that complying with the milk request leads to the specimen asking for a straw, which in turn allows the creature to slurp the beverage and request a napkin."
Dr. Halabi noted that the experiment outcome closely matches that posited by researchers Laura Joffe Numeroff and Felicia Bond in a 1985 paper. "Numeroff and Bond correctly predicted various elements of the sequence and ramifications, our study has revealed," continued Halabi. "Indeed, murine napkin use induces a request to ascertain no remnants of lactal material on the maxillary epidermis or 'mustache zone.' Allowing the specimen to view the facial region in a reflective surface to gain that data carries a high likelihood that a request to trim cilia will follow, specifically using nail scissors."
"In fact Numeroff and Bond displayed uncanny insight, foreseeing the broom request, sweeping binge, devolution into mopping, and the consequent desire for somnolence," he added. "It was only at this stage that the predictive capacity of the Numeroff-Bond model began to show inconsistent results – but only because the mouse occasionally skipped the requesting-a-story-and-asking-to-see-the-pictures step and went directly to a request to draw with crayons."
If the team can obtain the necessary funding, asserted Halabi, they intend to conduct further experimentation to test other elements of Numeroff-Bond theory, which not only posits a circular chain of mouse-milk-cookie events, but has predictive model that covers the 1991 moose-muffin-jam and 1997 pig-pancake-syrup dynamics.
Please support our work through Patreon.