To Livingstone, it is clear who must bear the blame for his suffering.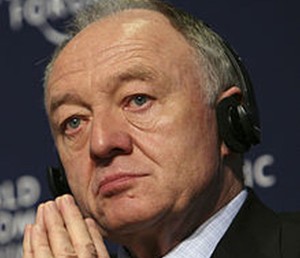 London, April 5 – UK Labour figure and former Mayor of London Ken Livingstone claimed today that as a result of his token punishment for spouting antisemitism, the joint connecting his hand to his forearm now has a contusion.
Livingstone was not expelled from Labour, as some critics had demanded, but barred from running for office until this time next year, and was permitted to retain his voting privileges in the party. He had on numerous occasions likened early Zionists to Hitler, denied Hitler's innate hate for Jews, and criticized the world's only Jewish State for defending itself against terrorism. The wrist-slap administered by the party's governing body left the 71-year-old with a bruise at the end of his forearm.
"I am in some discomfort, and this is an unbecoming situation," charged the politician. "In my current state I am unable to offer the Nazi salute without pain."
To Livingstone, it is clear who must bear the blame for his suffering. "The Jews who control the machinery of Labour – and who always have, along with controlling the banks, corporate media, and all of Western foreign policy for hundreds of years – don't like when I expose them. They will have their lackeys call me an antisemite again, but that is exactly what Hitler would do, don't you know? I mean, after he went crazy. He used to love Jews, which is, well, puzzling, but there you are."
The bruise is hindering Livingstone's functioning in other ways, he reports. "I used to be able to send out obtuse, Jew-baiting tweets at will, but it hurts to hold my phone the way I'm accustomed," he complained. "A man of my age has his habits and it's very difficult to get used to a new way of doing things, even temporarily. Bloody kikes."
Despite the pain, however, Livingstone has vowed not to be deterred from his vision for London and Britain. "In the grand scheme of things this is a small price to pay for defending the interests of this great city, this great civilization," he declared, "no matter how hard the yids try to undermine it with their Communism." An aide whispered in Livingstone's ear. "I mean capitalism. Do I mean capitalism? It's so hard to keep track of the evil we're associating with Jews nowadays. Are we sure it's not Nazism? I mean, are we really, really sure? Because I'm bloody well sure it's Nazism."
Please support our work through Patreon.