"Good Lord, get that thing away from me," chirped the cockatiel. "Have you no sense of decency?"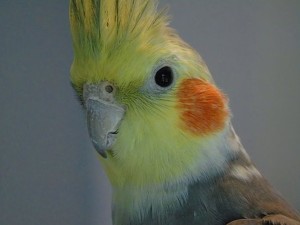 Nahariya, May 2 – A local cockatiel demanded that his caregiver replace the pages of Haaretz that line the floor of his cage, household sources reported Tuesday, noting that the bird refuses to allow his excretions to come into contact with something as repulsive as that newspaper.
Biff, a two-year-old bird whose presence has graced an apartment along Herzl Street since November, keeps nipping at the fingers of anyone who attempts to use the publication to catch his droppings for eventual disposal, and declared that he would continue to inflict that bodily harm until his sensibilities were complied with. Biff asserted that his guano, as disgusting as the substance may be, nevertheless remains far more acceptable and tasteful a presence than Haaretz.
"Good Lord, get that thing away from me," chirped the cockatiel. "Have you no sense of decency?"
Biff explained that he would have no problem crapping all over the pages of other dailies such as Yediot Acharonot, Maariv, or Yisrael HaYom, and has done so with pleasure. "But when it comes to Haaretz, there's a new depth to the cesspool," he noted. "It's one thing to publish photos of bikini-clad celebrities cheek-by-jowl with opinion pieces decrying the objectification of women in the media. It's another realm of filth entirely to betray every basic human value in a vain effort to appear sophisticated, liberal, and intellectual."
"The call themselves 'The newspaper for thinking people,'" snorted the subspecies of parrot. "My intestines produce more worthy output than those clowns, and there is no way I'm going to let my droppings be defiled by their smug logorrhea."
Acquaintances of the cockatiel are divided over his stance. "Dude, it's a newspaper. You crap on it," urged Ungar, the family dog. "I pass by some blowhard's property twice a day, and make damn sure to leave a steaming pile of my output in front of that place. I mean, whatsername – you know, the one who gives us food? – always picks it up afterwards, so I always make sure to urinate there a little more than anywhere else, but you know what I'm getting at."
"Leave him alone – he's entitled to have some standards," argued Igor, a housefly stuck between the screen and the living room window. "You think I want to spend the rest of my brief existence listening to you privileged jerks debating the relative merits of Haaretz vs. poop of any kind? Take it from me – at least poop is part of a productive cycle of life. Mmmmmm… poop."
Please support our work through Patreon.