"Won't someone think of the children?"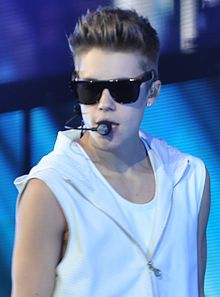 Ramat Gan, May 7 – Last week's performance of teen heartthrob entertainer Justin Bieber in Yarkon Park has many Israelis wondering whether they might be better off if Israel were in fact the target of a broad boycott by artists and other public figures.
Bieber's concert last Wednesday drove home to many Israelis that it might be worth it to undergo international isolation and economic hardship just to avoid exposure to the hack Canadian musician who for some reason remains popular among the demographic of screaming preteen and teenage girls.
Parents of concert attendees formed the largest portion of Israelis now mulling support for the Boycott, Divest, Sanctions movement against their country, a sharp turnabout from the movement's status as anathema to the vast majority of the population. Until the performance, supporters of BDS had largely been considered traitors to the society, which sees the movement as a thinly veiled effort to undermine Israel's legitimacy. But Bieber's performance, his second in the last several years, has brought about a shift in sentiment so profound that the most patriotic Israelis are weighing the benefits of a Bieber-free environment even if that means crippled trade, academic quarantine, and diplomatic pariah status.
"I'm willing to do almost anything to keep this from happening again," stated Iddo, a shaken father of two girls. "My God. This has to stop somehow. Won't someone think of the children?"
"We need to do something," snapped a determined Avner, whose fourteen-year-old daughter could not stop screaming "Justin" at the top of her lungs before, during, and after the performance. "This is intolerable. It has to be better with no 'Beliebers' – it just has to be. I'm willing to give up Coca Cola, popular music, commerce with Europe, almost anything in exchange. Someone call Omar Barghouti, because I'm on his side now, if not for the same reasons," he added, referring to one of the prominent faces of the BDS movement.
In Gaza, Hamas, the militant Islamist movement that controls the territory, has begun to tone down its rhetoric regarding what it calls Israel's "siege" of the coastal strip, recognizing the benefits of not having Justin Bieber visit their confines. "We're OK, thanks," offered a nervous Mahmoud al-Zahar, a spokesman for the organization. "We've now seen what happens when borders are open and anyone can enter. Sure, it might continue to cripple our ability to resist the Zionist occupation and to throw off the oppressive yoke of the immoral siege, but some things are more important. We have to protect our people from something much more pernicious here."
Please support our work through Patreon.