"You can't get any more minority than zero percent."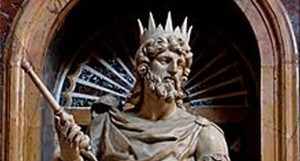 Jerusalem, July 6 – NGOs and political figures are accusing King David of a policy of racial discrimination and of barring ethnic minorities from his government, noting that of the many advisers and officials in the palace, none are Arab.
A coalition of activists and grassroots organizations called for an investigative commission into royal appointment practices today, citing the lack of even a single Arab among the king's officers, advisers, ministers, and taskmasters.
"It is mind-boggling that in this day and age such blatant discrimination is practiced," said Zehava Gal-On, a local activist. "I'm sure you'll hear plenty of questionable explanations from palace spokesmen about this disgusting phenomenon, such as there being no Arabs in the kingdom, but that only strengthens the problem – why, exactly, are there no Arabs in the kingdom of Israel? Why do we exclude them?"
Others echoed Ms. Gal-On's shock. "Our government prides itself on its supposedly unified and comprehensive representation of all tribes in the nation, but a cursory glance indicates that is simply not the case," argued Dov Hanin, who runs the Association for Native Arabs Collectively Held Removed from Offices of Nobility in Israelite Systems of Monarchy (ANACHRONISM). "For a society that purports to bring together diverse elements into a unified collective that nevertheless preserves the uniqueness of each element, there is a suspicious dearth of representation of certain ethnic minorities."
"You can't get any more minority than zero percent," explained Hanin. "That's why the king should be making a special effort to help bring this marginalized population – marginalized to the point of nonexistence, I must emphasize – into the halls of power."
ANACHRONISM documents claim that Arabs are not the only minority being denied a say in Israelite government, but theirs is the most egregious case. An ANACHRONISM survey earlier this year found that Canaanites, Jebusites, Philistines, and Edomites were similarly excluded from the fateful deliberations and decisions occurring in King David's palace.
A royal spokesman dismissed the accusations. "We exclude almost everybody – this is an absolute monarchy," said Shimi Ben Gera, an adviser to the king. "What do these people think this place is, Switzerland three thousand years from now? Do I look Swiss to you?"
The activists plan a rally next week to bring their demands more directly to the public, but a member of the coalition, speaking on condition of anonymity, admitted the event may be delayed or postponed amid the discovery that placards, megaphones, and media coverage will not be invented for many centuries.