"I wonder if he's ever been exposed to the elements foo more than a minute or two in his life," remarked Hadas Hel, a guide at the site.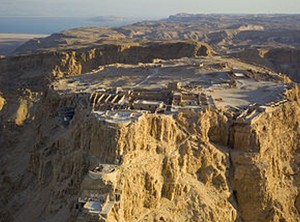 Masada, Judean Desert, May 15 – Administrators of the archaeological park centered on this ancient hilltop fortress worried today that whoever advised US President Donald Trump to deliver a momentous address atop the mountain may not have informed him that temperatures there typically reach in excess of 100ºF (about 38°C) during the day, and that the plateau atop Masada has no air conditioning.
Maintenance and tourism personnel at the preserve have shared puzzlement and anxiety since officials in the Trump administration announced the president would deliver a speech at the historic site known for the mass suicide of its Jewish defenders facing Roman legions in 73 CE. The staffers voiced apprehension over the simplistic picture of the world the 45th president gains from his advisers, and expresses, specifically expressing doubt as to whether anyone on Trump's team noticed that Masada is located smack in the middle of a desert where tourists dehydrate all the time, and that the sprawling outdoor compound has no climate control facilities at the summit of the mountain where the last stand of the ancient Jewish zealots took place.
"I wonder if he's ever been exposed to the elements for more than a minute or two in his life," remarked Hadas Hel, a guide at the site. "We have air conditioning at the entrance facility and the guest house that's on site, but that's down in the valley much close to the Dead Sea. Do you think it even occurred to anyone in the Trump administration, let alone Trump himself, to inquire as to the availability of what from his perspective is a basic necessity? He's not going to want to take off his suit jacket where all the pomp and circumstance is supposed to be happening – I don't think anyone even told him."
"That's not the part that worries me," responded her coworker Mizu Gavir. "Trump himself will be fine – the guy is robust. I'm concerned about the hundreds of people he's bringing with him who have no idea what they're getting into. But I guess that sentence could apply to almost anything the guy does."
Unconfirmed reports indicate that Embassy of Israel staff in Washington have prepared a detailed presentation for the US advance team, including a proposal to construct an air-conditioned dome over the site. Funding for the project, according to the reports, would come from the same Mexican sources as the long-anticipated border wall the president has promised will be constructed.
Please support our work through Patreon.