The exhibit will open this afternoon following a short memorial service for the hijackers.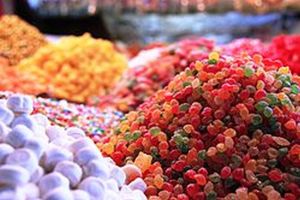 Ramallah, September 11 – Curators at the Museum of Palestine just outside the territory's de facto capital have announced the acquisition of new items, which will be displayed for the first time today, to mark the sixteenth anniversary of the September 11, 2001 terrorist attacks in New York and Virginia: original sweets from the immediate aftermath of the attacks that were distributed in Palestinian towns and cities in celebration of the events.
Indigenous Palestinian Culture Department curator Aisay Mossadiddit assembled a press conference to announce the acquisition and exhibit, which will open this afternoon following a short memorial service for the hijackers. The exhibit will be on view indefinitely, explained Mossadiddit, as the museum's collection of artifacts illustrating indigenous Palestinian history in the Holy Land currently lacks suitable alternative pieces.
"This afternoon we will unveil these artifacts of our native culture," he boasted. "The pieces are from an anonymous collector, who has provided them to us on permanent loan."
Among the collection's prized possessions is an Israeli Tortit, a chocolate-covered candy bar with almond-creme-filled layers of wafer that gained prominence earlier this year when terrorist icon Marwan Barghouti was filmed sneaking it as a snack while he was leading a hunger strike of Palestinian prisoners in Israeli jail. The curator noted that although he was certain Tortit bars were distributed in 2001, the specimen in the museum's collection was bought recently, in keeping with the scholarly standards for general Palestinian evidence of indigenous status.
Mossadiddit also described a vacuum-wrapped serving of kanafeh, a local sweet pastry, that was said to have been served to Yasser Arafat himself. "We have not actually gotten our hands on the specimen yet," he stated, with some hesitation and a momentary shift in his gaze. "Our research department is edi— I mean reviewing footage of that auspicious day, and at the very least we will be able to offer images of the special piece of kanafe as it is presented to the Raïs. Rest assured it will have the same authenticity as everything else this museum displays."
The assistant curator's favorite item in the collection, he admitted, is an artist's recreation of a Jordanian, or perhaps Syrian, Egyptian, Lebanese, or Arabian candy that he remembers being popular at the time.
Museum officials lamented the relative paucity of sweets in the collection, which numbers nineteen items. More would be available, they explained, but for a policy implemented in recent years to combat diabetes and obesity concerns among Palestinians by cutting down on the distribution of candies and other treats in response to disaster striking an enemy.
Please support our work through Patreon.