"We've enjoyed periods as long as five days at a time without a Palestinian attempt on Jewish lives. That could work with cars too."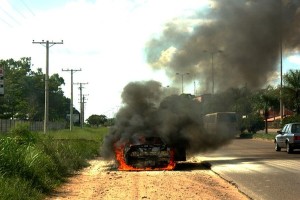 Carmiel-Misgav, June 4 – Road safety activists have put forth an initiative to treat the scourge of fatal vehicle crashes with the same political urgency and creative thinking that spawned the peace process with the Palestinians, whereby Israel would conduct negotiations with the collisions in an effort to reach agreement on how much of Israel to relinquish to the crashes in exchange for no further Israeli deaths.
Advocates for the land-for-peace formula, stymied in their efforts over the last nine years to bring about a settlement with the Palestinians, have begun to focus instead on a much bigger killer of Israelis than Palestinian terrorism: car crashes. Since the Oslo formula has resulted in unprecedented peace and the end of the conflict, at least for brief periods, the same successful approach can now be applied to the hundreds of Israelis killed in car crashes each year. If offered enough land, they argue, the collisions will finally enjoy the dignity of their own sovereign territory to administer, and will stop causing the deaths of Israelis.
Advocates of the proposal observe that the number of Israels killed in car crashes far outnumbers those killed in war and terrorist attacks. "There have been years in which the number of Israelis, including soldiers, killed by terrorists is maybe in the double digits," explained Missinda Point, founder of the Land for Vehicular Peace Foundation. "But the number of people killed in car crashes remains in the triple digits years after year, and no one has yet to suggest negotiating with car crashes to do anything about that. I mean, hello, have we learned nothing from Oslo?"
"I'm sure we can work something out," she insisted. "As a society, we managed to give Palestinians control of a whole bunch of major cities, the entire Gaza Strip, and about ninety percent of their population, plus gave them guns and share intelligence with them – and to a great extent we're propping up their current leadership. In exchange, we've enjoyed periods as long as five days at a time without a Palestinian attempt on Jewish lives. We must be able to come up with an arrangement that produces similar results in the vehicular realm. When was the last time we went five days without a death from a car crash?"
Experts remain divided on the feasibility of such an effort. "I suppose it might not hurt to try, but then, it might," worried Hami Sayyid,who studies driving habits in the Israeli-Arab community. "It comes down to a cultural question, I think. Will the car crashes perceive the pursuit of negotiations as a weakness on our part, and keep killing, or will they be willing to forge a permanent peace? I'm of two minds."
Please support our work through Patreon.